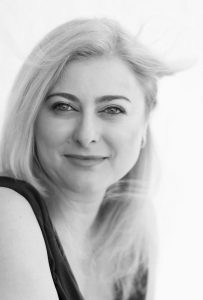 Svetla Bankova  has been a thyroid patient advocate for almost 10 years. She has a Masters Degree in Counselling Psychology and she is a Certified Health Coach through  Coach Training Alliance since 2005.  She is a writer and as a health coach is helping others to create the life of their dreams.
Svetla is a former Graves' Disease patient and she reversed her Graves' Disease even though the condition is considered "incurable", applying methods and techniques, that are not only natural but include a deep understanding of the Human Nature and Psychology, as well as a profound psychological approach to our everyday life challenges.
The information in her books is sincere, compelling and profound and provides you with powerful, practical information you can begin to use instantly toward healing your Graves' Disease/ Hyperthyroidism. It addresses not only the body but the mind and spirit as well.
Svetla passionately insists that Graves' Disease can be 'treated' and cured by understanding what causes it and changing life style, habits and applying the healthy style of living.
She shows us that there is more than one way to heal Graves' Disease, and takes the reader through the steps that will support them in finding their way back to complete health, Graves' Disease/ Hyperthyroid Free.
She is also an author of 5 other books on Graves' Disease, Hyperthyroidism and Thyroid eye disease. Short links for them can be found in "Books & CD's" section. All her books are written with a holistic approach, addressing not only the physical consequences of Graves' Disease but also the emotional, spiritual and social ones as well and how to overcome them.
Connect with her on Google + at- +Svetla Bankova or visit us at our Graves' Disease Facebook page and Facebook Group: Graves' Disease, Hyperthyroidism and Thyroid Eye Disease